INTRODUCTION
A quick starter guide for PHP developers : how to use EasyPHP and how to create a PHP file.
A complete and ready-to-use environment for PHP developers
EasyPHP is a WAMP package including the server-side scripting language PHP, the web server Apache, the SQL server MySQL, as well as development tools such as the database manager PhpMyAdmin, the debugger Xdebug and many others. Nothing to configure. It's already done! You just need to download, intall ... and code. The administration page allows you to list the docroot, extensions,change the Apache port, the timezone, max execution time, error reporting,upload max filesize, add/remove alias, manage modules....
Modules : pre-configured web applications for EasyPHP
You just need to download the module and run the setup. Thus, you can quickly install applications like WordPress (Blog), Spip, Drupal, Joomla! (Content Management System - CMS), Prestashop (eCommerce / Online Shop), phpBB, Phorum (Forum / Bulletin Board) ... An easy way to code and test your templates.
An environment for PHP developers
All errors, warnings and notices including coding best practices and recommended coding standards in PHP are displayed. This configuration is intended to force the beginners and even some experienced programmers to develop good habits and write code clean and consistent..
For developers and development only...
Not for production or web hosting. EasyPHP is a development tool and is not intended to host websites or applications. The configuration is optimized for coding and debugging.
EasyPHP is portable
You can install it on your system, a USB key, a USB flash drive, a memory card, a portable hard drive... and develop or present locally your PHP code, projects, websites, scripts, applications...
1

Install EasyPHP
Download EasyPHP from the website www.easyphp.org
double-click on the downloaded executable
select an installation directory and follow the instructions
2

MAKE SURE THAT SERVERS ARE RUNNING

Before doing anything, verify that easyphp.exe is launched and servers are running.

When EasyPHP is launched, an icon appears in the systray (beside the clock).

If this icon looks like this

or like this

or like this
, that means that servers are not running properly.
If this is the case, double-click the icon to bring up the window below. Start the server(s) that didn't start and wait until ...

... the window looks like :

When everything is fine, the systray icon looks like :
3

OPEN THE ADMINISTRATION PAGE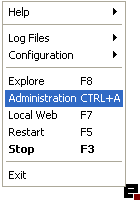 Right-click on
and select "Administration". The administration page allows you to manage PHP / Apache / MySQL, aliases, modules and to use the code tester.
Other menu options:
Help: help on EasyPHP
Log Files: record errors generated by Apache, MySQL and EasyPHP
Configuration: gives access to various configuration tools
Explorer: open the directory "localweb" in Windows Explorer
Administration : opens the administration page
Web local : opens local web
Restart : restarts Apache and MySQL
Start/Stop : Starts/Stops Apache and MySQL
Quit : closes EasyPHP
4

USE THE "LOCALWEB", CREATE ALIASES OR VIRTUAL HOSTS

You must place your files either in the "localweb" directory, in an alias folder or a virtual host folder (module "Virtual Hosts Manager" needed). So that PHP can interpret your PHP pages.
5

Your first PHP page

There are many ways to program in PHP and there are many suitable text editors (eg. specialized for HTML or PHP with syntax highlighting etc). For this example, you can use a simple text editor.

1Open a new file

2Type the structure of an HTML page


<html>
<head>
<title>My first page in PHP.</title>
</head>
<body>

</body>
</html>


3

The example is designed to display the current date. The PHP Code is integrated directly into the HTML like below:

<html>
<head>
<title>My first page in PHP.</title>
</head>
<body>

Current date : <?php print(date("l F d, Y")); ?>

</body>
</html>


4

Saving the page

Create a new directory in the "localweb" directory (or in an alias folder, or in a virtual host folder). Save your first PHP page there with the following extension: .php. Name it "date.php".

Make sure, in the Windows Folder Options, that the extensions of the files whose type is known are visible.

5

See the result

If you want to see the result you need to use a browser. From the administration page select your folder (localweb, alias or virtual host) and click on your file "date.php". Your browser will display a page with the current date; for example: "current Date: Wednesday March 22, 2013".

6

Learn more

Go to the

learn page
6

FORUM & FAQ

Forum: EasyPHP's forum before posting a question to the forum, please consult the FAQ and/or carry out research on the web.

FAQ: go to the EasyPHP's FAQ
7

SOCIAL LINKS